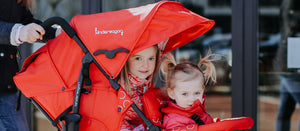 Fall Sale - 30% Off at Checkout!
Seeing Double?
Kinderwagon is Your Go To Source For Strolling With Two!
Smart Strollers For On the Go with Multiple Kids in Tow!
Out and about with more than one child? Whether it's every day or big adventures, Kinderwagon has exactly what you need with strollers specifically designed for twins and siblings close in age. Urban or suburban and everything in between, we've got a stroller for that!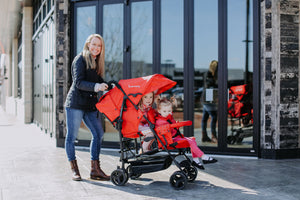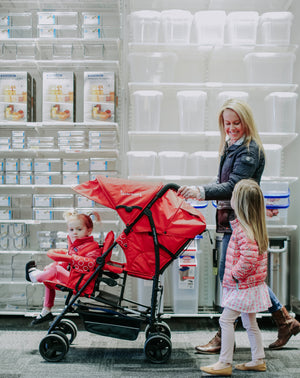 Everything a stroller should be, but when it's not we are here for you.
Let's Stroll
We are a small family owned business, bringing you quality baby gear at affordable prices. If you like us spread the word!
Why Kinderwagon?
Style & Function
Thoughtful design and ease of use are paramount! Our comfortable strollers are easy to spot with our signature design and we include accessories that are a modern parent's dream.
Safety & Quality
We never cut corners on safety or quality. We meet or in most cases exceed the most stringent standards imposed by ASTM F833 and the CPSC. Every safety feature has been engineered to perfection.
Travel Ready
We're all about exploring the world with kids in tow so we've designed the perfect ride to do this. Our sturdy and drivable designs will get you where you need to go with ease.
DIRECT FROM THE CUSTOMERS
5 Star Reviews
I'm so happy I bought the Kinderwagon Hop. I was searching for a lightweight, easy to fold, tandem stroller. I'm so happy I bought the Kinderwagon Hop. I have 13 month old twins who are on the petite size… We have a BabyJogger City Select but it is just too heavy, bulky, and difficult to fold and unfold for daily in and out of the car for multiple errands use. I desperately needed something that I could just flip out and in to unfold and super light to lift in and out of the car, but it was impossible to find anything in stores. The Kinderwagon Hop is a win!
This stroller is amazing!!! This stroller is amazing!!! I am a petite Mom and don't want to be pushing around a heavy, super long double stroller. This stroller met all my needs!!!!
Worth the investment!!!! I love this stroller! I have a 2 month old and a 16 month old right now! My Chico carseat fits in the back and my 16 month old rides up front. I drive a GMC Acadia so space is limited as I have older kids too so my 3rd row is always up. I love that I can put this in the back and sill fit groceries etc. in the back too! It's perfect for a family with a car too! It's so much smaller than my graco double and a heck of a lot lighter! Love this stroller!!! Worth the investment!!!!
I love this stroller! As a mom of one-year-old twins, I love this stroller! It is SO compact and easy to fold. And light! We use it for travel and keep it in the car for trips to stores.
It is super comfortable for all of us We took this stroller to Disney and it saved us!! I am 5'9 and this is one of the few strollers that has grips that feel comfortable and the right height. My husband said the same thing, it is super comfortable for all of us. The light weight, easy to open and travel with is what makes this stroller our 'must pack' on all adventures. This is a durable well thought out essential tool for every family!
Great stroller for our granddaughter! Great stroller for our granddaughter! So lightweight and convenient to fold. We can attach the car seat easily, or now that she's a bit older (4months) she rides comfortably with or without the car seat attached. Steers easily one handed.